At Embalex we have been offering maximum protection and security in the transport and logistics operations of our clients' goods for more than 100 years.
One of our specialities is the
relocation of industrial plants
, that is to say, the relocation and/or assembly of factories or part of them, both nationally and internationally.
Recently, Embalex has collaborated in a complex logistic operation that consisted of sending a press with three main pieces of 47,500, 45,400 and 31,000 kilograms, respectively, to its final destination in Vietnam. The total weight of the expedition, including the press and the rest of the oversized machinery and varied tooling, amounted to more than 216,000 kilograms. Some of the transported structures were more than 10 meters long. 
This operation was carried out in collaboration with the logistics operator IP Cargo, which specialises in door-to-door transport of special loads and industrial projects by sea.
Embalex's professional team has provided advice for all issues related to the adequacy of packaging, protection and securing of machinery in a total of thirteen containers (four 40' FR, four 40' OT OH, three 4' OT and two 40' HC).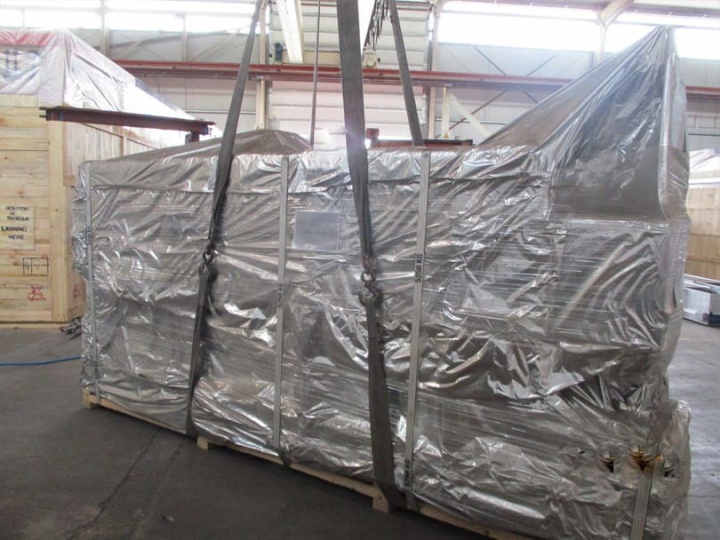 The work was carried out at the Embalex Group's central facilities, located in Santa Perpetua de Mogoda, Barcelona. These facilities are excellent for carrying out this type of operation, as they have a covered surface area of 26,000 square metres, six piers for loading and unloading, 70-tonne cranes and all types of machinery suitable for moving large and heavy parts.
Each packaging project is unique and must be studied in a personalized way in order to carry it out with guarantees of success. In large projects, such as the transport of large pieces of machinery or complete factories, this customization of the packaging solution is even more important, as any aspect not considered can have incalculable consequences.