At Embalex we manufacture custom-made cardboard boxes. What factors should be taken into account when making this type of order? Above all, we must define our needs very well and bear these 5 points in mind when ordering our boxes:
1. QUOTATION

2. NUMBER OF BOXES

3. SIZE

4. INTERNAL CONDITIONING

5. MANIPULATION OF THE PACKAGING
First, we have to
define our budget
and evaluate
how many boxes we need
and weigh whether it is beneficial to increase the order quantity in order to lower the cost of each unit.
Secondly, the client must be very clear about the use to which the boxes will be put. That is to say, we must determine the product we want to pack, its weight, its state (if it is solid or liquid), its dimensions, its layout inside the box,
its weight-volume ratio
or if it requires specific conservation needs. Cardboard is an ideal protector for fragile products or products that may have problems due to sun exposure, humidity, etc. If your product is perishable or can be affected by such external factors, cardboard is a good choice.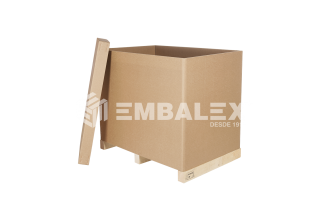 We must also take into account the
internal conditioning
of the box. It is of vital importance to know if the product will be loose or packed, if it is fragile or very fragile, and so on. During journeys the product may be damaged, so it is important to assess the different types of filling and the form of packaging to ensure that it is as protected as possible. In these cases, our cardboard box factory has several options: a thinner cardboard, for example, creates air chambers inside the box that absorb shocks, thus protecting our product. We also have the option of increasing the quality of the cardboard to make the box stronger.
The handling of the packaging
is also something to consider when ordering your custom cardboard box. The way they are handled also influences the strength of the cardboard we need.
It should be noted that cardboard is a careful material with the planet, saving energy and minimizing waste as it is a reusable packaging. If you are interested in receiving more information about the manufacture of cardboard boxes you can
contact us
or visit our
cardboard boxes configurator
.